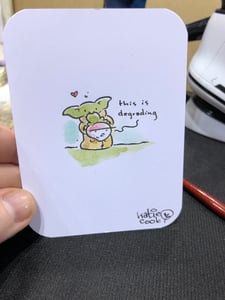 $

25.00 - On Sale
3" x 4" watercolor and ink painting made custom for you during an upcoming Twitch livestream.
These are the paintings that I usually only do at conventions but, do to everything being cancelled, I am giving folks a chance to get them done now.
-
You need to put in your PayPal payment notes what you would like me to paint for you.
NO MORE THAN TWO FIGURES ON A CARD (plus a baby or pet for no additional charge) or there is an up-charge. Use your best judgement in the pull-down menu to choose your cost.
I'd prefer to paint popular characters ( not very popular characters or something I can easily look up reference for...) BUT I know most people would like their pets or family members. If that is what you want, make sure you e-mail me your reference after your purchase to katiecandraw@gmail.com.
Please make the subject line "MINI PAINTING REFERENCE". In the e-mail, list your name, order number, and attach all your reference for me to make things move smoothly on my end!
Prices include shipping and a free Radish sticker.